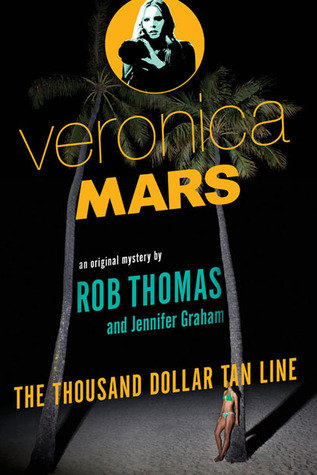 Goodreads Description:
From Rob Thomas, the creator of groundbreaking television series and movie Veronica Mars, comes the first book in a thrilling new mystery series.

Ten years after graduating from high school in Neptune, California, Veronica Mars is back in the land of sun, sand, crime, and corruption. She's traded in her law degree for her old private investigating license, struggling to keep Mars Investigations afloat on the scant cash earned by catching cheating spouses until she can score her first big case.
Now it's spring break, and college students descend on Neptune, transforming the beaches and boardwalks into a frenzied, week-long rave. When a girl disappears from a party, Veronica is called in to investigate. But this is not a simple missing person's case. The house the girl vanished from belongs to a man with serious criminal ties, and soon Veronica is plunged into a dangerous underworld of drugs and organized crime. And when a major break in the investigation has a shocking connection to Veronica's past, the case hits closer to home than she ever imagined.
My thoughts:
You guys! YOU GUYS!!!

Not going to lie. I was nervous for this one...to the point I bought a copy on my kindle and let it sit there for a few months until I thought I was ready. Because, as my fellow VM backers and fans know, we marshmallows have a deep love of this series, so going from a TV show to a movie to a book? TERRIFYING!

So let me ease some fears by saying: I ADORED THIS BOOK!

It was great to be able to stay in Veronica's world just a little bit longer. The book picks up right after the movie, with Veronica staying in Neptune as part of Mars Investigations, and I felt like the characters stayed true to themselves, the writing was well done, the wit and sarcasm we've come to expect was all there, and even without much Logan at all, it was a really, really enjoyable read.

I definitely plan on continuing the series and am hopeful that maybe sometime down the road, we'll get another movie? Maybe? :)
Ahhh...Veronica. It seems I adore you in ALL FORMS. *happy sigh*
REMINDER: Interview and Giveaway coming up this Friday!
Until then...peace, love and books!