I am. I have to admit it.
Something is off.
It took me a while to really notice it, to come to terms that something just wasn't right, but it's true.
Did you know? You probably did.
Maybe you sensed my absence and wondered to yourself why I wasn't as bubbly and happy as you're used to in my posts?
I swear I'm always the last to know.
I'm pretty sure someone should invent a "funk-meter" that would allow those of us that live in denial too long to know how deep we're treading before we get to the bottom and wonder how we got there. Right?
My point is that, yes, my name is Kristi and I'm currently in a bit of a funk.
*raises hand appropriately, while looking guilty*
I do hereby solemnly swear that I will work towards getting myself out of said funk, and promise to keep the whining and negativity to a minimum whenever possible.
As always, hugs are necessary and encouraged...even bloggy ones.
And advice? Yes, please. What do you do when life gets you down, when things aren't just right?
How do you pick yourself up?
Admitting it is the first step to recovery, right?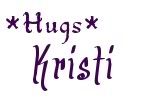 PS-Labeling this post "funk" actually made me giggle.
See, I'm better already.
(almost)